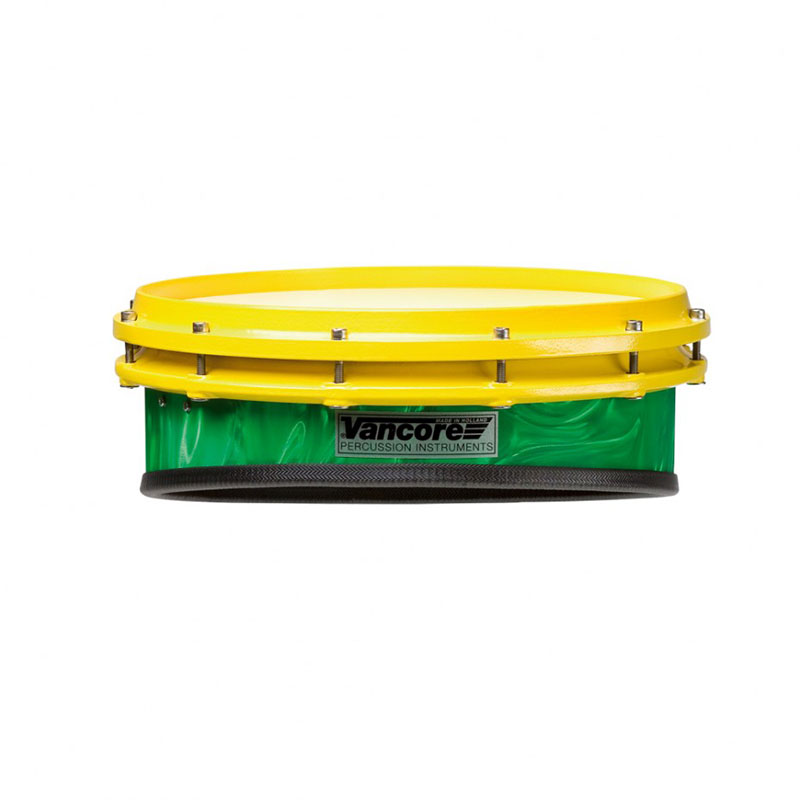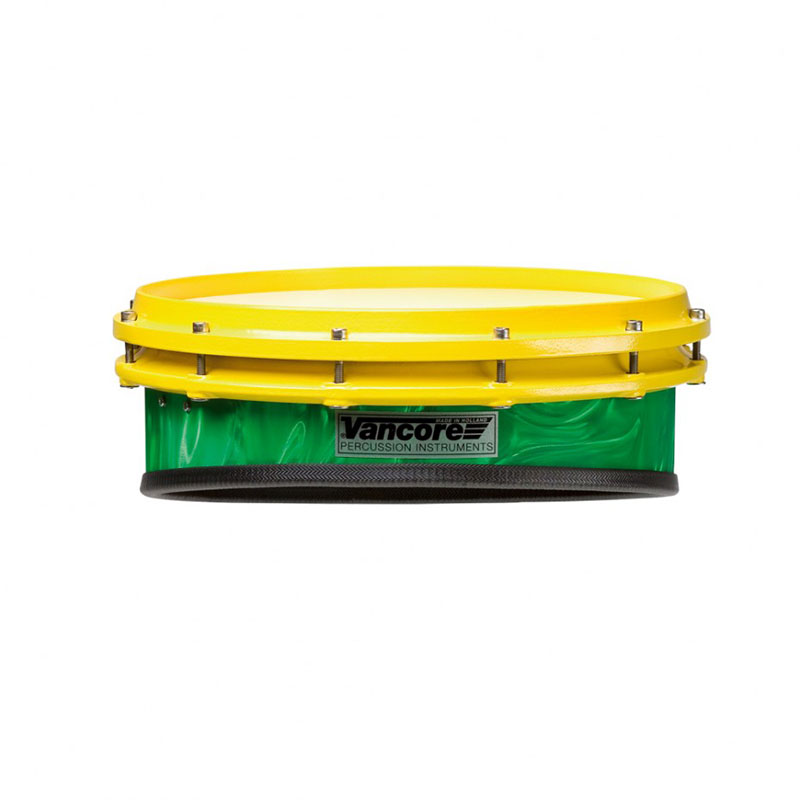 Caribbean Band Series Vortex Drums
Vancore's Free Floating Vortex snaredrums stand for a crispy sound, extreme light weight and very easy to carry. First on the market and second to none in performance!
We have added a 'snap on' construction to move away the shell if you want to. If you like to play without shell, just go ahead and experience the even more crispier unrivalled sound! Easy to transport, easy to handle. Very strong construction! The drums are, depending on the model of choice, fitted with a fixed or fully adjustable top strainer. Both available with Aluforce or Plywood Impact shells.
The instruments are constructed with an integrated adaptor unit, attaching your carrier.
Strong and powerfull as the tropical Vortex stands for!
Download the productsheet for all models, technical specifications, weights, sizes and packaging.
Snares

Using wire snares – (20 strands) the available snare
systems stand for the most crispy and accurate sound
available.
Strainers

Top Strainer [TS] | Easy to handle and fully adjustable, both height and snare tensioning. CC machined components like Delrin and special high quality anodized aluminium completes the strainer are the absolute top level available. Reliable and functional for the extreme demands in sound and function.
Inserts

Pressed into the collar the 12 steel inserts guarantee a lifetime functioning. Made for extreme tension ad precize tuning.
Tension Rods

The drums are fitted with 12 stainless steel tension rods (M6X 1,5) for durability and strength to stand the high tension suitable for these drums, creating the sound/tension you need.
Tension Rings
Made out of special aluminium alloy. Focused on strength and durability. Precisely CC machined, mirrorfinished and available in different finishes. Just the best quality available on the entire market!
Collar

Made out of special aluminium alloy. Focused on strength and durability. Precisely CC machined to create just the best construction for both bearing edge and extreme high tension. The collar just stand for quality and a life time durability. To adapt the drum to a carrier we choose the collar to attached the adaptor for a strong connection between carrier an drum.
Drumheads

Top | Remo Fallam Heads We ony use the best component and there fore these series we choosed for Reno Fallam heads as a standard and optional you can choose for White Max or Cybermax drumhead.
Shells

Plywood Impact | The heartbeat of your drum!
A 4mm 6-ply wooden shell made out of a combination of beech and occume. Both wood species which are the basics of light and strong drums shell.

Aluforce | Light in weight and strong in sound!
Precisely CC bended and welded aluminium shells made out of a special 1.5 mm aluminium sheet material. Extremely light in weight with an excellent performance in sound and durability. Aluforce it just says where it stands for.
Vancore International
Tolhûswei 7a-9 | 8501 ZP Joure Holland
Showroom
Tolhuswei 7a-9 | 8501 ZP Joure Holland
Expedition
Vegelinsweg 18 | 8501 BA Joure Holland
T +31 (0) 513 415127
F +31 (0) 513 413038